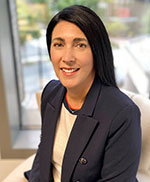 Meredith Jordan
Chief Operations Officer, DWA
Branch Manager, RJFS
m.jordan@dogwoodwa.com
LinkedIn
Meredith establishes and cultivates trusting relationships with our clients, proactively helping them understand their investments and planning strategies. Trustworthy and passionate, she is dedicated to delivering a consistent, positive client experience to help ensure all commitments are completed and delivered in a timely manner.
In addition, Meredith also serves as our Chief Operations Officer, helping to ensure the efficiency of our office systems and compliance with firm and regulatory policies and procedures.Before joining our team in March 2022, Meredith was a Senior Vice President at Morgan Stanley. She held a number of leadership roles across several branch locations, where she served Financial Advisors and their clients to help provide resources, solutions and quality service.
Meredith has more than 20 years of financial industry experience. She holds Series 7, 66, 24, 9, 10, 3, 4, 31 and 53 securities licenses and earned a Bachelor of Science in Finance from Florida State University.
Meredith is from Atlanta, Georgia, and lives here today with her husband, John, and children, Ella and Wyatt. In her free time, Meredith enjoys traveling.