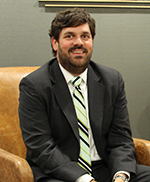 Craig A. Houck, CIMA®, CRPS®, ChSNC
Managing Partner
c.houck@dogwoodwa.com

Craig focuses on a planning based process for our clients. Adding structure and discipline to a plan can be a very freeing for our clients who may at times feel out of control or uneasy regarding a transition.
His goal for his clients is to maximize their comfort level and enjoyment, while keeping an eye on the long term – with a plan designed to help preserve their assets. He finds great satisfaction in his ability to make a meaningful difference in the lives of our clients' families.
His professional designations include Chartered Retirement Plans SpecialistSM (CRPS®) and Certified Investment Management AnalystSM (CIMA®)
He co-founded Dogwood Wealth Advisors with Richard Schooley, Jr. in August 2014 and runs their Atlanta office. Previously in his career, he spent 13 years as a Wealth Advisor and Senior Vice President at Morgan Stanley. He earned a bachelor's degree in Finance from the University of Georgia.
In 2018, Craig ranked #22 on Forbes Best-In-State Wealth Advisors in Georgia**. He is also a member of the Raymond James Chairman's Council***.
Originally from Dublin, Georgia, Craig lives in Atlanta's Virginia Highland neighborhood with his wife, Eryn, and children, Baker, Grant, Maggie and Garrett. His favorite leisure time pursuits include cooking and golf.
** The Forbes ranking of Best-In-State Wealth Advisors, developed by SHOOK Research is based on an algorithm of qualitative criteria and quantitative data. Those advisors that are considered have a minimum of 7 years of experience, and the algorithm weighs factors like revenue trends, AUM, compliance records, industry experience and those that encompass best practices in their practices and approach to working with clients. Portfolio performance is not a criteria due to varying client objectives and lack of audited data. Out of 21,138 advisors nominated by their firms, 2,213 received the award. This ranking is not indicative of advisor's future performance, is not an endorsement, and may not be representative of individual clients' experience. Neither Raymond James nor any of its Financial Advisors or RIA firms pay a fee in exchange for this award/rating. Raymond James is not affiliated with Forbes or Shook Research, LLC.
*** Membership is based on prior fiscal year production. Re-qualification is required annually. The ranking may not be representative of any one client's experience, is not an endorsement, and is not indicative of advisors future performance. No fee is paid in exchange for this award/rating.